Don't you think? I mean it's been a while. I've been neglecting.
Well, no more!

Let's see...what would be nice? I'm thinking... something to celebrate the newness of "Eden"; something that you can't buy anywhere till Spring.

How about a "Jelly Roll" and a "Layer Cake" cut from "Eden" fabrics and a couple of my new patterns??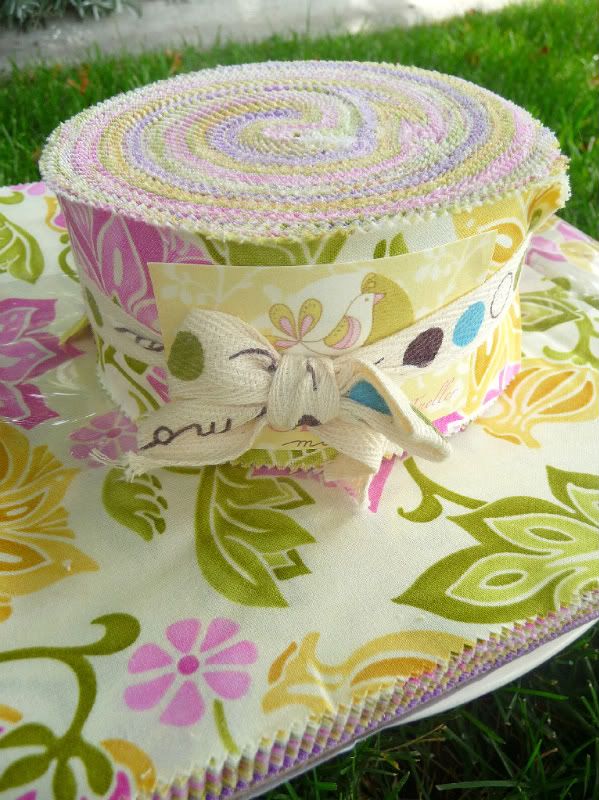 Now if you don't know what a jelly roll is, let me explain. Its a 2.5" wide by 44" long cut of every fabric in the Eden line, plus a couple extras thrown in for good measure, all rolled up like a sweet roll, or a jellyroll if you will, and tied up in a bow.
The great thing about jellyrolls is you can make cool things with them, like bags and quilts and strip work baby skirts... AND you get to have a little sample of all of the fabrics in a collection without having to by a lot of yardage.

A Layer Cake is similar, but instead you get a 10" square of each of the fabrics, doubles of some, so you can make other cool things! My Halle Rose baby Blanket Pattern is made from Layer Cakes. Maybe I'll throw that in too!
The two newest patterns will be in the gift box too, so you can try them out before anyone else gets to! As I'm writing this, I don't even have them back from the printer yet...so let's just hope they come in a timely fashion!

The prizes will be given to the person whose name is drawn from the comment pool. You must leave a comment, (hopefully a nice one), and post a link to the contest on your blog if you have one. This will give you 5 extra entries. (If you don't have a blog, don't dismay...you still get an entry into the contest.) If you want even more chances to win, tell me what you would make with a jelly roll or a layer cake if you had one. I'll give you 5 more entries for that.

So there you have it... Good Luck!




Oh, and one more thing...Sometimes those fortune cookies you get with Chinese food are a crock of, well you know. But sometimes they actually have hidden truths, or not so hidden truths. Sometimes they actually come true, but so far not for me.
But I really, REALLY liked the one I got last night, and thought I'd share it with all of you, for some good karma or something. (Is that how you spell Karma???) Anyway...it can apply to all of us through the magic of Blogworld. Enjoy!

UPDATE: Thanks a million for all of your awesome comments/ideas/compliments/creativity!

The contest will go on while I am away at market.
My two new patterns are here...available for order on my right sidebar. (If the link doesn't show the new patterns yet, just hang on a sec...they'll be there any minute!) Just think of all the cute pillows and bedding you could make for yourself, or for loved ones!